LinkedIn Sponsored Content Ad Pack
Regular price
$157
/
---
No more worrying about crafting the perfect creative for LinkedIn Sponsored Content ads. We'll help you convert business professionals in the LinkedIn feed with ad copy and images made to attract clicks.
1. Create An Order
Choose a package of your choice and any additional upgrades.
2. Submit Creative Brief
After confirmation, you'll receive a link to our intake form. This helps us craft your creative.
3. Copy and Paste
When complete, we'll provide you a drive link with your assets. Just copy and paste into your campaign!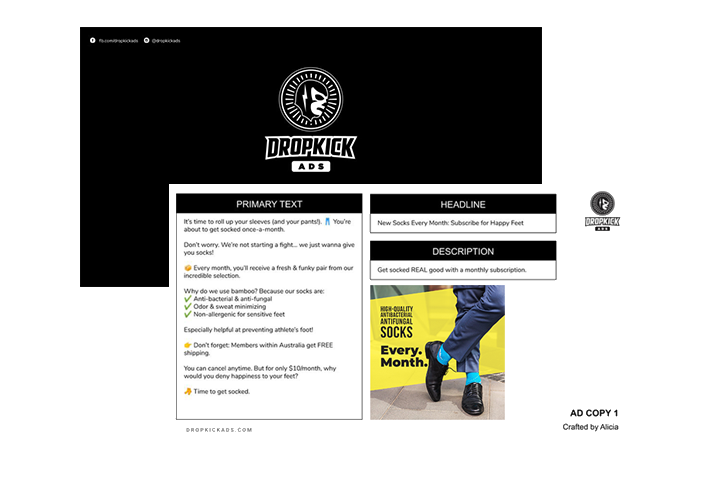 Our LinkedIn Sponsored Content Ad Pack comes with three custom-written ad copy variations and two custom-designed images so you can test which works best for your desired result.
3 Copy Variations
Our writers will craft three descriptive texts and headlines.
2 Custom-Designed Images
Our designers will craft two 1200x627 image variations.


Priority Delivery
We bump you up and aim to deliver in as little as 24 hours.
Get 'Em Where It Works With High-Impact Linkedin Sponsored Content Ads

Want to advertise to professionals to exceed your objectives? Capture their attention with your own team of experienced ad pros in your corner.
Our writers and designers are suited up to help you launch powerful campaigns that influence decision-makers who are ready to do business with you.
We'll apply what we learn from you, your website, and your Linkedin profile to craft native ads for Linkedin that are built to boost awareness, consideration, & conversions.
Here's to networking with the best! Let us handle the rest.
If you haven't entered the Linkedin Ads arena, jump in for a win.

World's Largest Professional Network
There are 630+ million pros on Linkedin.
#1 Lead Generation Platform
4 of 5 members drive business decisions.
Low-Risk, High-Reach
Optimize your cost per click with targeting that's based on high-quality profile data.
#1 B2B Platform
3.5x higher conversion rate for B2B.
Ad Versatility
Create Video, Text, Carousel Image, Single Image, Spotlight, & Message Ads.
Why should I advertise on a "job" network?

Because everyone has one, if we're lucky. Linkedin provides more than 630 million reasons to connect with an audience where your targets are actively networking, sharing, and listening. It's to each member's benefit to keep their information accurate and up-to-date. You can leverage Linkedin's quality data to hit the right marks.
Linkedin is more than social media.

Tap into the world's largest professional network by launching professional ads. On this powerful platform, you'll cut through the clutter of cat memes & political rants to reach your audience where they mean business. Get more than "likes" with help from the Dropkick team. Extend your reach, and turn connections to conversions.
Our creative team will provide:

Custom-crafted images for Linkedin
Our designers know how to grab 'em by the graphics. We'll use your photos or stock images to create captivating visuals optimized to perform well on the platform.
Ad headlines that are the best fit for the job
Make a great impression with cleverly prepared messaging that commands attention. Dropkick's team of word nerds does it concisely and creatively — within 150 characters.
Ad copy that boosts your brand
Detailed descriptions drive your objectives and call your customers to act. Let us show you how to increase awareness, consideration, and conversions with thoughtful language that makes an impact.
"Dress for the job you want" with our Linkedin Sponsored Content Ad Pack.
Get it working now with Priority Delivery.
Frequently Asked Questions
Do you need access to my LinkedIn ad account?
Since we're only crafting the creative, we do not need access to your account.
How will I receive my ad creative?
We'll place everything in a Google drive so you can save, copy and paste into your campaigns.
What is the turnaround time?
Our standard turnaround time is 3 business days, though we try to get things complete as fast as possible.
Do you offer guarantees or refunds?
We aim to put you in the best position to be successful, however can't guarantee any specific result. We will happily offer a revision if you're not happy.
We've streamlined our process to make getting marketing services an efficient and economic experience.
1. Create An Order
Choose a service, add any additional upgrades, and complete checkout.
2. Submit Creative Brief
After confirmation, you'll receive a link to our intake form. This will help us move forward on your order and we'll reach out if we have further questions.
3. Order Completion
For creative services, we'll provide a drive link with your assets when complete. If you ordered a Pro Setup, our team will reach out to you with further instructions and guidance.