We'll Give Your Klaviyo Account a Master Setup
There's more to email these days than just creating and sending a campaign to a list. Utilizing Klaviyo's powerful and data rich platform, we can create templates and flows that insure you're getting the most out of your email channel.
We'll setup and integrate the must-haves for any eCommerce store.
1. Create An Order
Order a Klaviyo Pro Setup
2. Submit Intake Form
After confirmation, you'll receive a link to our intake form.
3. Grant Account Access
We'll request access to your accounts, begin our research, and get started.

4. We Complete and Deliver
In as little as 10 days, we'll complete all integrations, must-have automated flows, and a custom editable template.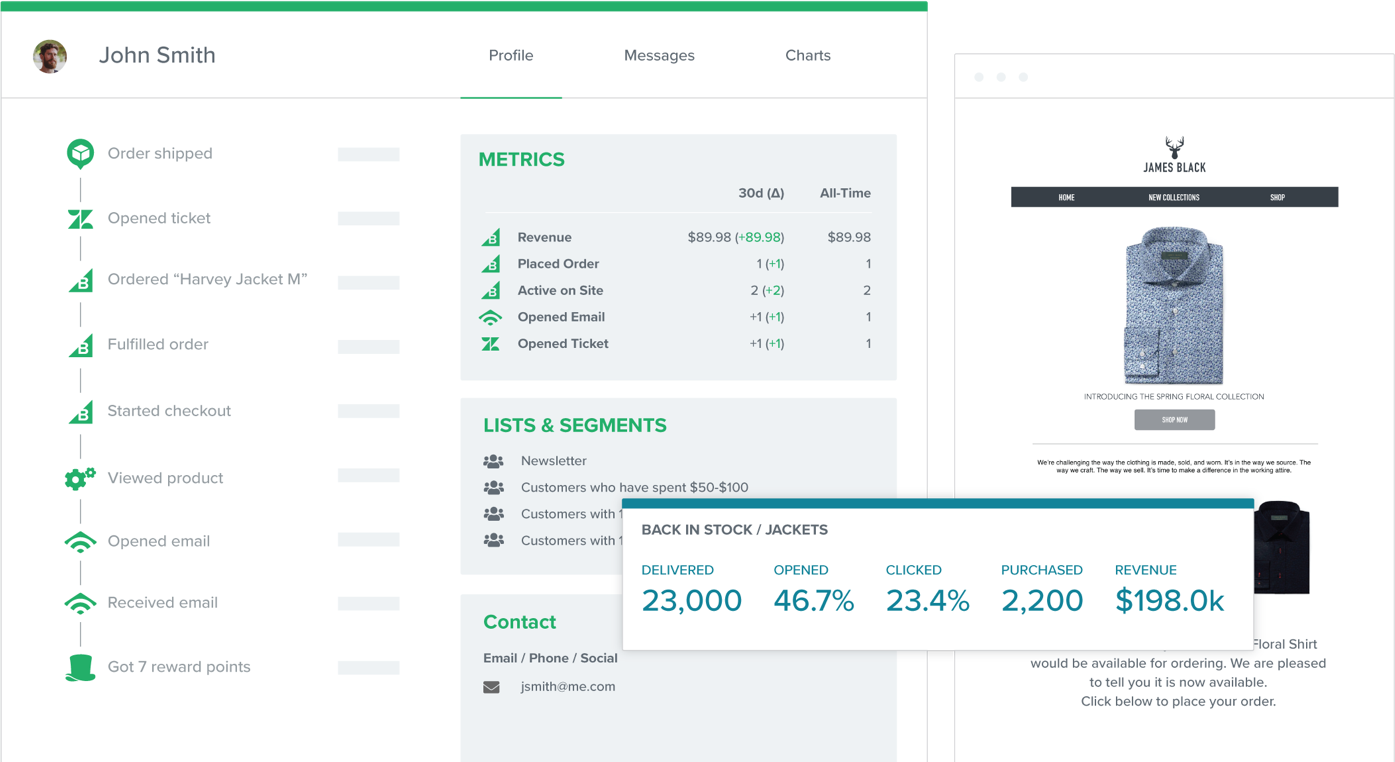 Our Klaviyo Pro Setup leaves you with running automated flows that encourage first-time and repeat purchasers using powerful customer shopping integration data.
Custom Template
We'll make a custom editable and branded email template for your campaigns.
Must-Have Auto Flows
We'll setup smart automatic email flows based on what customers have and have not done.
eCommerce Integration
We'll insure proper integration with Shopify or other supported platforms.
Email marketing can generate $38 for every $1 spent, making it the best revenue for online marketing
.
What's the big secret? It all comes down to data.
Maybe customers are reading your emails. But are open rates really telling you enough data to build a successful campaign?
With an understanding of your subscribers' habits, you can deliver a better customer experience and focus your email copywriting on the right clientele.
Like most marketers, we're head-over-heels for Klaviyo's ingenious new email platform, informed by the data behind current marketing campaigns.


Join 50,000+ companies in over 80 countries worldwide.


✔  Find out exactly how much revenue your campaigns are generating.
✔  Make decisions using powerful "if this, then that" email flow technology.
✔  Track campaign success for less money than Facebook or Google Ads.
✔  Secure lifelong customers by catering to buyers' unique needs.
✔  Link Facebook & Shopify for cross-platform marketing avenues.


Speaking of Shopify…
Trying to make your Shopify blow up? You're gonna love what Klaviyo brings to the table.
✔ Track Shopify sales directly from email campaigns.
✔ Customize lists of Shopify target audiences.
✔ Build specific Shopify campaigns based on customer purchase data.
Imagine knowing exactly which items are selling best -- and to which users. As your business grows, so will Klaviyo's insights on your shop's performance.
Big news! We've teamed up with Klaviyo to deliver you data-backed ad flow campaigns that cater to any customer base you want.
What's that look like? We're so glad you asked.


Custom Email Template
We'll design an easy-to-edit, branded email template you can use on future campaigns. Simply swap out your text and images!


Complete Critical Flows
For a full course of email content, we offer a series of critical flows.
A custom welcome series flow of automated emails to introduce new newsletter subscribers to your brand and encourage the first or second sale.
An abandoned cart flow to remind visitors about the items they were interested in and make offers based on what they have or haven't done. Requires an integrated eCommerce platform.
Customer Re-Engagement Flow
A customer re-engagement flow based on purchase history, helping to increase customers' lifetime value. Requires an integrated eCommerce platform.
A flow to harvest reviews, share "you may also like" emails, and encourage a second purchase.


Audience Segmentation
Using Klaviyo's subscriber data, we'll pinpoint and segment each of your targeted audiences.


SHOPPING INTEGRATION
We'll set up your online shop with Klaviyo's user-friendly platform. You'll start generating useful subscriber data right away!
Unlike other email servers, Klaviyo is more than a glorified outbox. Combined with Dropkick, it can connect directly with the customers who matter most to your business.
Do we sound smitten with Klaviyo? Well, we did make our partnership official. Can you really blame us?
Streamline your eCommerce marketing campaigns with Dropkick's Klaviyo Pro Setup.

Need a Klaviyo account? Click here to get one FREE!