We Believe in the Power of Email.

A monthly email sounds like a lot of work. To us, it sounds like an opportunity to generate long-lasting fans! Bring in our team of passionate email writers to take over your email copywriting and get more leads than you've ever imagined.
1. Create An Order
Choose a package of your choice and any additional upgrades.
2. Submit Creative Brief
After confirmation, you'll receive a link to our intake form. This helps us craft your creative.
3. Copy and Paste
When complete, we'll provide you a drive link with your assets. Just copy and paste into your campaign!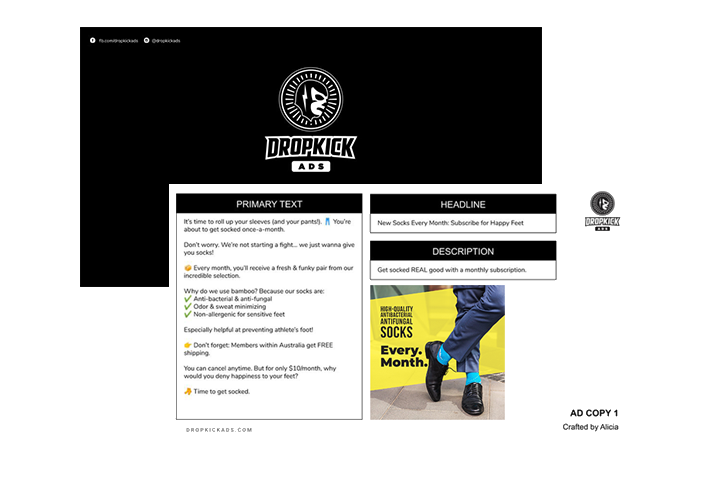 Our Email Writer Service comes with one custom-written email copy variation with two subject line variations.
Email Copy
Up to 120 Words
2 Subject Line Variations
Add Additional Variation
We'll provide a second variation at a discount.
Priority Delivery
We bump you up and aim to deliver in as little as 24 hours.
Good emails don't end up in the spam folder.
What's worse than ending up in the spam folder? Ending up in the trash! Don't worry – we're experts on writing professional emails that people want to save, not delete.
These days, most people invest in social media marketing without giving proper attention to their email campaigns. It just breaks our hearts!
Sure, social media ads are great for new customers, but what about the ones who already love what you do? They need attention, too!
We want your customers to feel excited about you – that's just the kind of word nerds we are. This is your chance to take advantage of our skills and design an email campaign that skyrockets your sales!
Your business will fall in love with email marketing.
9 out of 10 marketers evaluate email over web traffic.
Getting someone to your website is much harder than getting them to their own inbox, which they check every day!
There's an 82% open rate for strong welcome emails.
People love feeling like an email was crafted just-for-them.

Personalized welcome emails generate a 50% higher open rate.
That's where we come in. We'll make it personal so YOU can reap the rewards.
Why are people even sending emails?
You name it, you send it! Your subscribers want to know how your business is doing without having to put in the legwork. Give them updates on your recent successes, new partnerships, big investment opportunities, or just check in to say hi when the season changes! We'll find the right words for any message you're trying to get across.
Make it easier for your fans.
Don't force the people who LOVE what you do to miss out on your progress! Schedule a monthly email newsletter to let fans know what's happening on your end. Got nothing new to share? No sweat! We'll find something to keep your customers interested whether you've got a hot sale or no sales at all.

Our creative team will provide:
Two attractive subject lines.
First, we'll narrow down two subject matters. Then, we'll give you the best click-up lines.
A commanding line of preview text.
The preview text is where the personality comes in. We've got plenty of that to go around! Let us handle the big hook.
The email copy you've been wishing for.
Not too long, not too short… just right for impressing your audience. Got a huge announcement that you can't boil down to less than 120 words? We're experts on cutting to the chase.
A second email copy variation (Add-on).
One more for good measure! Request a second variation and we will provide.
By the time we're done with your campaign, you'll be excited to click on your own e-mails!
Let our email writers take over your email copywriting and watch how fast people start clicking.
Fly to the top of our inbox with Priority Delivery (1-2 Days).