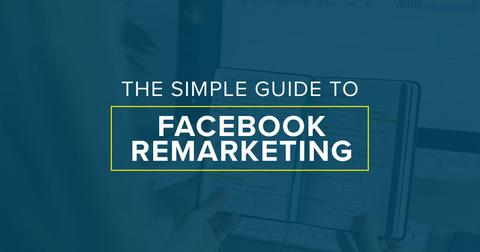 The Simple Guide to Facebook Remarketing
You visit a store online and for the next several weeks you feel like you're being followed.  The shoes you were interested in keep showing up everywhere. You see different versions of the ads and see new offers as time goes by. Congratulations. You're in a remarketing funnel.
You visit a store online and for the next several weeks you feel like you're being followed.  The shoes you were interested in keep showing up everywhere. You see different versions of the ads and see new offers as time goes by. Congratulations. You're in a remarketing funnel.
What is Facebook Remarketing?
If you have a site online, remarketing is arguably one of the most important and valuable paid strategies available. It's also one of the cheapest on Facebook. When you have the Facebook Pixel installed on your site, any user that visits will get tagged based on the actions they take.  These actions can be anything from a simple page view to more valuable ones like purchases or leads. In Facebook Ads Manager, you then would have custom audiences lists that contain these users and show them certain ads based on those actions they have or haven't taken.  
Here's an example:
If you visit our Facebook Ads That Convert gig but leave the site without purchasing, we're going to send you several reminders of our services over different time intervals. For the first 4 days, all site visitors will see this static ad in almost all Facebook and Instagram placements. If you fail to purchase anything within that time period, we're going to show you something else between the 7th and 14th day that you visited our site, but only if you "viewed content".
Every site or store's setup is going to be a little different, but the ultimate goal with Facebook remarketing is to keep reminding someone that showed interest in hopes of getting the outcome we all seek, purchases or leads. Rather than just provide you a dictionary of terms, we're going to give you our exact recommendations for setting up remarketing.  
Like mentioned before, everyone's setup will need to be tailored. This will give you a good base to start with if you are feeling lost or have failed to see any results in the past.  Let's get to work.
Facebook Pixel Check
First things first, you can't have a functional remarketing campaign if you don't have a working pixel.  You can give your site a check by installing the Facebook Pixel Helper in your Chrome browser and seeing the actions that happen as you go through your site.
The main Facebook Events you want to make sure you have operational are:
Pageview
This means they visited your site and viewed a page.
View Content
If you have a store, the view content tag is what can associate that a certain product was viewed based on the content ID tag on that page.
Purchase
This event fires only if a purchase is completed. Lead If someone submits a form successfully, you could have the lead event fire. Making sure these events fire can be a little tough if you don't have a little development knowledge. Luckily, if you're on any major site builder like Shopify, Squarespace, Wix, or Wordpress, you really don't have to do much to get things going.
If you need help with a pixel installation, we have our Facebook Pixel Installation gig available.
Facebook Custom Audiences
Once you know that your pixel is in perfect order, we then can start building custom audiences in Facebook Ads Manager. Here's what we suggest as a start.
All Visitors, 4 Days
This audience will be anyone that visited your site within the last 4 days. Why four? Typically most sites we've worked on retain general interest for at least the first 4 days. This is what we feel is the hottest time to get a user to convert post-visit.
View Content, 7 Days
If you have products, here you want an audience of visitors that viewed content in the last 7 days. If you don't have view contents, you could use visitors here instead.
View Content, 14 Days
This audience is visitors that viewed content in the last 14 days. Again, if you don't have view contents, you could use visitors here instead.
Purchasers, 30 Days
If you sell products online, you will want to make an audience of past purchasers for the last 30 days.
Leads, 180 Days
If your main goal is people filling out a form on your site, you will want to make an audience of leads for the last 180 days.
Facebook Campaign Setup
When setting up your Facebook remarketing campaign, the first questions you're going to be faced with is what Campaign Objective to use.  This is a widely debated topic.
While the Conversions objective seems like the right choice since we all want more purchase or lead events, there is something to be said for using either the Traffic of the Reach objective instead.
The Conversions objective is going to "filter" your custom audiences based on who it thinks is most likely to purchase. It's a smart objective and it will likely bring you results. However, the Conversions objective is also the most expensive on Facebook which could make your cost per acquisition a little higher than you'd like for an audience that's already warm.
With the Traffic objective, you could choose to go with link clicks.  The thought here is that if these visitors have already seen your site, they are likely more interested.  Why let Facebook filter these people based on intent to convert? Facebook might be wrong! Plus, the Traffic objective is much less expensive than a Conversion objective.  If your audiences are tight, this could lead to really cheap purchases and leads.
Now maybe, you REALLY know your audiences and don't want any filtering.  Maybe you also want to control how many times visitors see your ads so they don't get annoyed.  If that sounds like you, then you'll want to look into the Reach objective.
With the Reach objective, you're telling Facebook to show your ad to everyone in the customer audience list no matter what they think about their online behavior.  You're also telling them exactly how many times to show them your ad. If you dial this in, you could really have a cheap cost per acquisition since Facebook charges you based on ad impressions.
All that said, if you still have no idea what to choose we'd recommend going with the Conversions objective.  It's tried and true to get results. Once you're comfortable and get an idea of what works ad-wise, maybe then give Traffic a chance, then Reach. But please don't try all three at once. That would be a disaster.
Remarketing Budgets
What you should spend per day on remarketing is directly proportional to the number of visits you get. Typically, we start each ad set at around $5 per day.  We then run it for a week and check the frequency. You can check the frequency by switching the stats view do "Delivery".
We like to try to stay between a 2.5 and a 3.5 and get a feel of the results we are seeing.  If you're about that and not seeing results, bring the spend per day down. If you're not getting at least that, bring your spend per day up. Some ad sets we've had at 10+ frequency. It all just depends on the product and the price point of those products.  If you're selling a thousand dollar couch, that frequency should be high. If you're selling a $10 bracelet you may want to be lower than that.
How It All Looks
If you're more visual, check out the structure below. This should be a pretty good start for almost everyone. Just let it ride, then optimize.
We will note again that every situation is different. If you have a product based store, you should also consider Catalog remarketing which requires a product feed and can be a little more complicated. If you have a more expensive product, you may also want to consider a longer-tailed remarketing funnel - all the way up to 180 days. Watch the results, optimize, and profit.