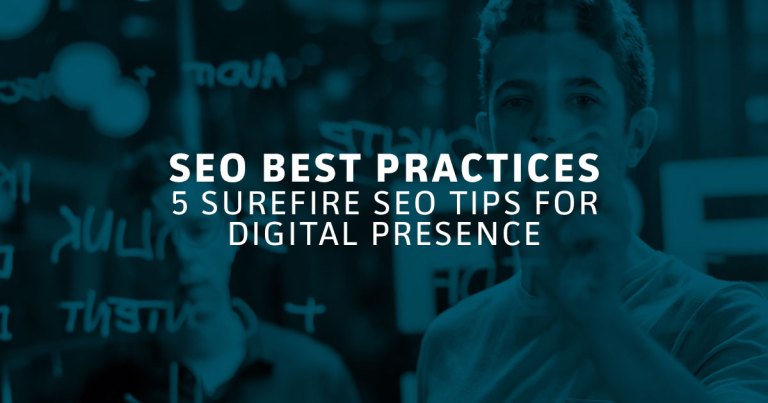 SEO Best Practices: 5 Surefire SEO Tips
SEO best practices are constantly changing, and 2020 has catapulted us all into an era of unknowing. We've learned that staying on top means keeping relevant since the early days of marketing, but what does that mean now?
SEO best practices are constantly changing, and 2020 has catapulted us all into an era of unknowing. We've learned that staying on top means keeping relevant since the early days of marketing, but what does that mean now?
SEO Best Practices: 5 Surefire SEO Tips
It's time to strengthen your digital presence for success!
In this blog, we'll recap some SEO best practices shared by SEO expert John Vuong in a recent episode of Ultimate Marketer | A Real Digital Marketing Podcast. 
As the owner of Local SEO Search in Canada and host of the Local SEO Today podcast, Vuong's SEO tips are sure ways to win at search engine optimization.
"In the SEO world, there's no fast quick way to rank," says Vuong.
Fortunately, there are some SEO best practices that can help business owners and entrepreneurs in 2020, and beyond. Being an expert in your industry niche is the first and most important step to great SEO. 
Sharing your expertise via thoughtful content is the way.
Good Content Always Rises
There's no way around it. Having a good business that's relationship-based is the winning foundation for online success. Those who focus on their customers and deliver on their needs dominate the marketplace in both the physical and digital worlds.
Digitally-speaking, there's no room for social distancing when it comes to sharing content. Relevant, close-hitting content that makes an impact ultimately paves the way for conversions.
Providing useful information that's easy to navigate is the most powerful action you can take to impact your SEO organically. Your content should always be answering someone's question. Ask yourself what your customers want to know. Keep close to your audience.
Do provide answers and information that inspire further interest and navigation.
Keep Content Crawlable & Error-Free
Quality content naturally ranks higher. It's worth the time to ensure that your messaging is clear, polished, and easy to navigate. If spelling and grammar aren't your strong points, use Grammarly, or hire an expert to make sure your content is ready to publish.
SEO expert Vuong also emphasizes the importance of "crawlable" content. This means search engine spiders can easily discover and follow the links to and within your website. 
These spiders or bots are sent to find and revisit content like web pages, videos, images, PDF files, and more. If a search engine spider can't follow a link, then your content won't be prioritized favorably within the web. 
Do include working internal and inbound links & avoid errors.
Own Your Assets
Optimizing your business in every medium possible is powerful SEO. Sometimes customers will never even go to your website, but they may take an action on a social media post, an ad, or some other related asset on the web.
 Don't underestimate the impact of YouTube, Google, Pinterest, Facebook, Instagram, and Twitter. Are all your assets claimed, accurate, and up to date? If not, put your best foot forward on every appropriate medium.
By supplying search engines with quality information wherever your customers are, your SEO ranking is set to improve. 
Do take control of your online assets!
Publish Content With Keywords
You may have noticed "SEO tips" or "SEO best practices" mentioned a few times in this article. That's no mistake. It's possible you landed here because we infused those keywords into this post. Keywords help guide the subjects and topics of content. 
Now consider what's interesting about your business or story. What makes it unique? Choose keywords that define your subject and differentiate you from your competition. In other words, think about who you want to find your content and speak to them.
Vuong emphasizes the importance of carving out a niche for yourself online, especially at the local level. For example, an Austin-based dentist's ad may be lost in a sea of ads for "Austin Dentist." However, the SEO-savvy dentist who focuses on their niche may just come out on top.
More specific keywords like "Austin Dentures" or "Austin Gold Teeth" cut through the clutter.
Do keyword research to target your audience and stand out in your industry. 
Think Substance For Successful SEO
Fake it and you won't make it. Producing great content takes work. While some people believe it's easy to rank organically, John Vuong believes that real SEO success is often a long-game. 
Don't get discouraged. By taking an "old-school" approach to SEO, you lay a strong foundation for more traffic in the future. Enjoy the journey!
By focusing on these SEO tips, you're set for SEO success. Think like the thought leader you are and share what you know about the products or services you offer. 
Now grab your audience's attention and call them to action!
Do post user-friendly content with substance. 
For more SEO best practices, hear the Ultimate Marketer podcast episode recorded September 15th, 2020: #61 Local SEO Strategies with John Vuong