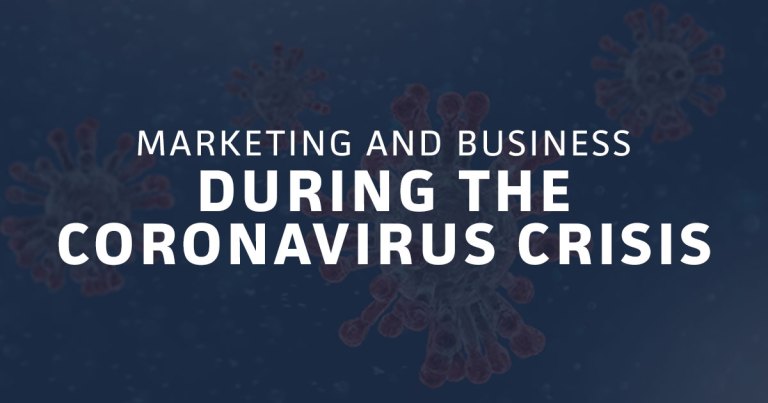 Marketing and Business During The Coronavirus Crisis
COVID-19 is clobbering small businesses. While health is a top priority, many are still wondering: What does this crisis mean for my business, my income, and my marketing strategy?
COVID-19 is clobbering small businesses. While health is a top priority, many are still wondering: What does this crisis mean for my business, my income, and my marketing strategy?
The virus doesn't care what industry you work in. From brick and mortars to online retailers, everyone's livelihood is at stake. With no end in sight, it's time to think about the big picture.
Suggested Business and Marketing Do's and Dont's During The Coronavirus Crisis
If you're wondering how to keep your business successful during the Coronavirus crisis, you're not alone. Here are some Do's and Don'ts pulled from a 
Special Edition of our Ultimate Marketer Podcast
:
DON'T: Try to predict the future. If there's anything the COVID-19 crisis has taught us, it's to put expectations aside. Just as the current stock market is hard to predict, so are your customers' actions. Will people still shop online? Should you run Facebook and Google Ads? Will your savings be enough to hold you through this undetermined period? Take a deep breath. The truth is, we're all in the dark right now. Instead of worrying, spend this time looking for opportunities to improve your business.
DO: Plan for any circumstance. You may not be able to predict the future, but you can plan for different scenarios. When it comes down to it, you have three possibilities:
1. Things stay the same.
2. Things get better.
3. Things get worse. In business, failure is always a possibility. Never allow the fear of failure to dictate your decisions. Rather, identify the choices you may face and rank them from the simplest (cutting hours, reducing costs) to toughest (letting people go, filing for bankruptcy).
Create a graph or spreadsheet and develop a timeline for your decision-making. As the days and months pass, make assessments for each checkpoint you hit. Leave the drastic options for the drastic circumstances.
DON'T: Forget about your workers.
Things may get worse before they get better. No matter the circumstance, you need to think of your team. Employees, contractors, freelancers –  these people keep your business going. When the storm passes, you don't want to lose the relationships you've built.
DO: Be a good entrepreneur.
What separates the good entrepreneurs from the bad? Those who take advantage of others during a crisis and those who seek to improve themselves. If you're looking to profit off the sickness and struggles of others, you're not a good entrepreneur. In fact, you're not an entrepreneur at all. You're just making the rest of us look bad. Choose to take advantage of your newfound time – not of other people.
DON'T: Pass up opportunities.
Yes, business has slowed down. Yes, the future is uncertain. But if you waste time panicking, you're not doing your business any favors. No matter the crisis, there are always opportunities. Here are just a few ideas to get you started:
1. Update your website's landing pages.
2. Create a backlog of blog posts.
3. Develop your email flows.
4. Improve your order process.
5. Redesign your branding & logo. This is your time to grow. If your business model is strong, it can easily survive the months ahead.
Advertising During the COVID-19 Outbreak
So… should you be advertising during the Coronavirus crisis? The truth is, business owners who desire success won't stop fighting. Whether that's you or your competition, someone will prevail. If you throw in the towel now, it's obvious who the winner will be. 

If you're still unsure, here's our advice: Think of all the companies who AREN'T running ads right now.

People may not want to buy this instant. But they might. If your competition pulls back on ad spend, it's your chance to shine. There are (literally) millions of people stuck to their phone screens right now. Who knows – you may get better outreach than ever before.

Stick to your Do's and Don'ts.

Those who beef up their websites, take care of their employees, get dozens of blog posts ahead of schedule, and maintain a strong marketing campaign will be miles ahead of the competition.

Take advantage of the MANY opportunities available to you.

There are countless programs and grants available to businesses affected by COVID-19, including:
What's Next For Businesses and Marketers Affected by The Covid-19 Crisis
No one knows what's to come. All we can do is keep pushing. Remember, small businesses make this country what it is. We have the power to create jobs, stimulate the economy, and inspire change. As always, your Dropkick team is here to help. For more information, tune into 
The Ultimate Marketer Podcast
.