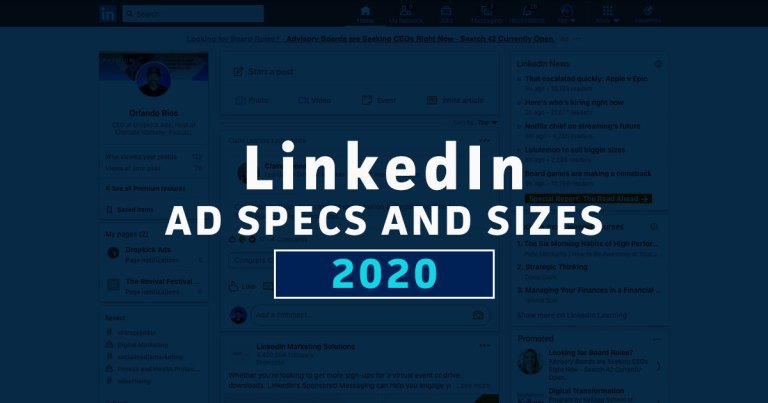 LinkedIn Ad Specs and Sizes: Everything You Need to Know
LinkedIn ads have become a great alternative to Facebook for business-to-business campaigns. If you're ready to explore the world of paid advertising on LinkedIn, make sure you follow some best practices to get your ads up and running efficiently and effectively. Whether you're advertising a product, service, job opportunity, or more, we've put together a straightforward guide to LinkedIn Ad specs and the benefits of different ad types. Keep scrolling to check it out!
LinkedIn Ad Specs and Ad Sizes
Single Image Ads
Single image ads help digital marketers get their message across in a simple but rich way and can be used with many different goals: from awareness to web clicks, to lead generation. Ensure that your LinkedIn ad size is correct in order to get the most out of this ad type!
Specs:
Intro text: 600 character max for desktop, 150 max for mobile
Headline text: 200 character max, 70 characters to avoid truncation
Description text: Max 300 characters, but 100 characters to avoid truncation
Image size:

1200 x 627

pixels in JPG or PNG format
Image Max file size: 5 MB
Carousel Ads
Carousel Ads helps you tell a full story of your product or service by showing 2-10 scrollable images and supporting text. Play around with the number and order of images to optimize performance and ensure that text is short but effective to supplement your images rather than distracting from them.
Specs:
Intro text: 255 characters max, the ideal is 150 characters or less
Headline text: 30 character max for lead gen ads or 45 character max for website click ads
Images size: 1080x1080 pixels in JPG, PNG, GIF (non-animated)
Image Max file size: 10MB
Video Ads
Video ads help marketers "stop the scroll" with an ad type that is more dynamic and interesting than still image ads. Video ads are also flexible and are able to be used for a variety of different ad objectives. In order to ensure that your video will upload and run correctly, follow the specific LinkedIn ad specs for video ads below.
Intro text: 600 characters max, the ideal is 150 characters or less
Video Length: three seconds to 30 minutes
Video Size: 1440x1080 Landscape, 1080x1080 Square, or 1080x1920 Vertical
Video Format: MP4
Video File size: 75KB to 200MB
Follower & Spotlight Ads
Both of these ads use profile pictures, company names, and your brand's logo to draw in viewers to either follow you/your organization or to visit your company website or landing page. These ads are considered Dynamic Ads, meaning that they are also as targeted and customized based on a user's interest, job role/industry, and more.
Intro text: 70 characters max
Headline text: 50 characters max
Company name: 25 characters max
Call to Action text: 18 characters max (pre-written in Follower Ads)
Image size: 100x100 pixels minimum in JPG or PNG format
Conversation/InMail Ads
InMail ads allow you to speak to audiences directly in their LinkedIn inbox. This feature allows marketers to share longer content with audiences without having to source and send using email lists. The LinkedIn ad specs for Inmail ads are as follows:
Message subject text: 60 characters max
Message body text: 1,500 characters max
Links: 3 links max
Call to action text: 70 characters max
Banner image size: 300x250 pixels in JPG, GIF, or PNG
Max image file size: 40KB
Job Ads
Jobs ads allow organizations to target qualified candidates by suggesting one or more job openings to their LinkedIn audience. As with Follower and Spotlight ads, these are only shown to qualified candidates and are dynamically generated with your profile picture, company logo, and/or company name.
Headline text: 70 characters max
Company name: 25 characters max
Call to Action: pre-written with customization options
Image size: 100x100 pixels minimum, larger images are preferred
Text Ads
Text ads provide a low level of entry for any digital marketer to explore the world of online paid advertising. Although they are called text ads, they are actually accompanied by a small, but simple image and are typically shown on the right of the LinkedIn feed. Plus, LinkedIn only charges marketers per click, conversion, or website visit, so marketers don't waste money on ads that don't work.
Headline text: 25 characters max
Description text: 75 characters max
Image size: 100x100 pixels in JPG or PNG format
Max image file size: 2MB
Overall, LinkedIn ads are a comprehensive and fairly straightforward tool for digital marketers. However, to get the most out of your ads, be sure to follow the guidelines LinkedIn ad sizes and specs for best results. Feeling overwhelmed? Never fear, Dropkick Ads offers pre-written and designed images at an affordable price for any business!