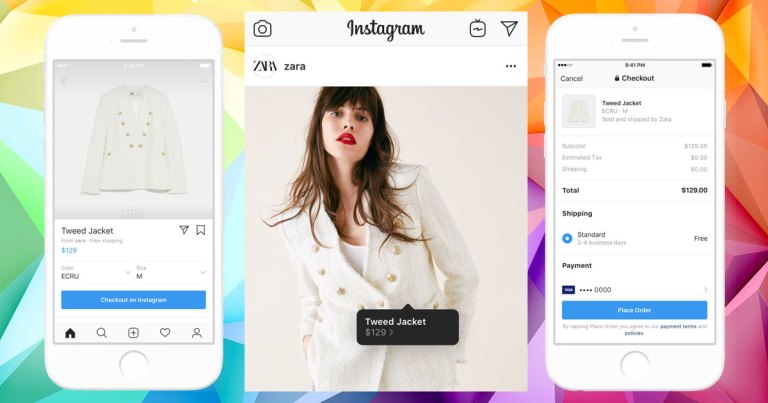 Instagram Checkout: How To Get Selling
Instagram Checkout allows users to shop directly within the app, making it easier than ever to drive sales!
Instagram Checkout is the newest way to sell online – and it's looking great for businesses and creators.
Instagram Checkout: Getting Started with Selling on Instagram to Shopping Customers
Found yourself accidentally hitting a new button while scrolling through Instagram? That'd be the new Instagram Checkout feature, which has stolen the place of the notifications button.
Instagram Checkout allows users to shop directly within the app, making it easier than ever to drive sales!
Don't worry – you'll still get notifications. Except, now, you'll have to click the heart icon in the top right corner of your profile page. (Way to make things more confusing, Instagram.)
But back to Instagram Checkout. How does it work? Are you eligible? Is Instagram Shopping something you should be paying attention to?
Well, with Instagram still growing and their new TikTok clone: Instagram Reels, we'd say the answer is a resounding yes.
Let's start with the basics – then we'll talk shop.
The Basics of Instagram Checkout
The new checkout process on Instagram is so simple, it's almost too good to be true. Here's how the user experience goes:
An Instagram user clicks on an ad they like.
They enter their billing info (with the option to save).
They checkout.
You make a sale.
The next time an Instagram shopper makes a purchase within the app, their full billing info will be queued up and ready-to-go. That means your potential customers have already done half the work!
Sales in seconds? Yes, please!
By clicking on the shopping bag icon, users can open the Instagram Shop. Here, they're able to sort by:
Brands
Beauty
Clothing & Accessories
Home
Jewelry & Watches
Travel
Users can then explore a brand's inventory without ever leaving the app!
Another way for users to find merchandise is by clicking product tags on Shoppable Instagram Posts. The "View Products" button on the bottom left of your post will allow users to identify specific items and their prices!
To go the extra mile, businesses can even add Shoppable Product Stickers to their Instagram Stories. Get creative to encourage more engagement!
Make your Instagram Stories unique with customized graphic design options!
Who Qualifies for Creating an Instagram Checkout Shop?
To use Instagram Checkout, all you need to do is put an inventory on Facebook Shop. From there, simply set up your account, create your posts, and watch your sales grow!
Below are some PROS and CONS to Instagram Checkout, instructions on getting set-up, PLUS 5 Exclusive Industry Tips!
The PROS and CONS
PROS
Tracking sales is incredibly easy with Instagram Shopping. See how many views, clicks, and purchases your products receive to learn what drives engagement!
CONS
Certain parts of the world are still waiting for Instagram Shopping to kick in, which could limit your audience.
With a

selling fee

of 5% per shipment or a flat fee of $0.40 for shipments of $8.00 or less, certain companies may find Instagram Checkout to be less helpful than others. (To combat extra fees, many creators are choosing to adjust their prices)
How to Set Up Instagram Checkout 
We've covered the user experience when it comes to Instagram Shopping, but how do you set up your own shop? Here's how it works:
Sync your product catalog with Facebook Shop.
Open Instagram.
Go to "Settings."
Go to "Business."
Click "Set Up Instagram Shopping."
Follow the prompts.
Start selling!