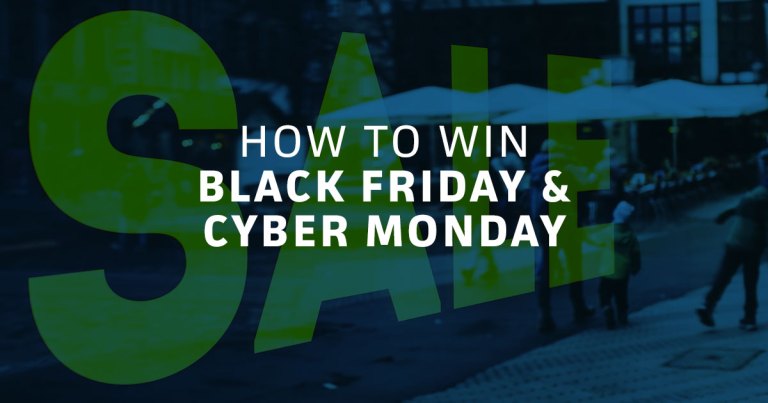 How To Win Black Friday and Cyber Monday
To ramp up for 
Black Friday
 weekend, it's time to go BIG. Creating attractive discounts and significant deals for your online customers has never been so important.
To ramp up for Black Friday weekend, it's time to go BIG. Creating attractive discounts and significant deals for your online customers has never been so important.
In this blog, we highlight how to put yourself in the best position to have a successful Black Friday / Cyber Monday weekend sale. 
Read on for a recap of Ultimate Marketer podcast's special Black Friday two-episode series.
The Friday after Thanksgiving falls on November 27th this year, and the time to prepare is now. 
Let's get started!
Listen: #65 Black Friday 2020 Preparation Episode Part One | Ultimate Marketer
Be Extra!
Think extravagantly. People expect Black Friday wins. Ask yourself how you can rise above boring sales and measly percentage-off deals to excite potential buyers. Put attractive core offers out there while customers are eager to spend. What can you offer? Impress them!
Clear Warehouse Space
Black Friday is an excellent opportunity to cut losses. Got a storage room full of merch that didn't sell? Offer that fluorescent yellow tank top for half price. Perhaps you give one away with any purchase over $30. Draw customers in with a compelling offer and move that junk out! Win-win.
Do it with Doorbusters
Lure 'em in with dramatic discounts, limited edition products, and exclusive deals. Maybe it's a t-shirt that's only available during Black Friday weekend. You might offer a steep discount on a basic service. Focus on capturing multiple sales from one customer. Get creative to get them through the door.
Create a Dedicated Traffic Lander
Have a specific landing page for all your Black Friday and Cyber Monday offers. One easy-to-scroll page for your best deals is key. Think of it as the Black Friday deals section of the newspaper. Your customers are seeking out your deals. Show 'em what you've got, straight up. You can explore landing page builder apps like Unbounce, Lead Pages, and Instapage that do it for you. Just drag and drop. While a custom-designed landing page is ideal, you can also integrate this idea into your Shopify collection pages.
Go the extra mile wherever your customers land.  Most importantly, have fun! Theming your Black Friday sale is a great way to go. Speak to your brand and connect with your customers around a theme that grabs attention.
💥  PRO TIP: Create a Facebook Event page specifically for your BF/CM sale. Use the Event to share offers, collect RSVPs, and build hype around what's going to be your biggest weekend of the year!
Promoting your Black Friday sale is essential. Being straightforward about its details builds trust and sets you up for great future business. Focus on getting your customers hyped up, and deliver.
Listen: #66 Black Friday 2020 Preparation Episode Part Two | Ultimate Marketer
The second part of Ultimate Marketer's Black Friday prep series tackles setting up Facebook ad campaigns for past and potential customers. If you've already listened, you learned how to take full advantage of email lists too. 
Check out the full episode, and if it doesn't inspire you to grab Black Friday by the horns, maybe our new Legion of Doom themed intro will! 👊 ⚡
Remember, all bets are off. If you're just getting started, go for everything! The goal is to get new customers and reinvigorate those who've bought from you before. 
Target Existing Customers
Utilize ALL your email lists. Be sure to target past purchasers on Klaviyo, Mailchimp, or wherever you have contacts captured. If you're using Facebook Pixel, max out all customers in your targeting (last 180 days). 
Don't stop at purchase lists. Utilize a list of anybody who has engaged with you on Facebook or Instagram in the last 180 days. Errbody! Heck, go 300+ days. That's another ad set for your Black Friday campaign.
Craft Black Friday emails to excite your audience. Build as much interest as possible to get potential buyers primed for the killer deals ahead. Make it simple. Do the work so they don't have to think about it.
Send emails every day, Friday through Monday, even twice a day. Don't be shy! Forget the notion that people may be annoyed by your messages. Those people can unsubscribe. The people who want to see your emails are the ones who matter, and they want to know what's in store.
Hammer down with emails:
🔨  Leading up to your sale
🔨  An hour before your sale launches
🔨  When your sale hits
🔨  Follow-ups after your sale  
💥  PRO TIP: Create ONE super ad set of previous customers and people you've engaged with over time. Use this list to cast a wide net. Tap into your lists to create strong ad sets.  It's time for super high-level marketing outreach! 
Create a Look-A-Like Ladder
Black Friday is a great time to let Facebook do the work to find more customers for you. Allow it to effectively optimize the budget for your ad campaign. Facebook will identify your best audience within your ladder and put more budget toward that group.
Choose a look-a-like ladder that makes sense for you.  A look-a-like ladder is when you have a campaign with separate ad sets for each lookalike target based on percentage.
Recommended look-a-likes could include:
Purchases 

Add to carts

View content
  💥  PRO TIP: Create separate ad sets within the campaign. Recommended ad sets: 1%, 1%-2%, and 3%-5%.
Launch a Remarketing Campaign
Have a separate remarketing campaign running while you're conducting your sale. It's another opportunity to go big and double down on your Black Friday / Cyber Monday promotion. Remember, timeliness is important. Put everything you have on the table.
Ad Carousels
Showcase your doorbusters and best deals in an eye-catching carousel ad that's easy to scroll. A one-week run is ideal, emphasizing your limited time offers.
Spend Optimization
Shoot for as many impressions as possible. Ditch lifetime budgets and invest in this small time period that can have a big impact. Focus on daily budgets. Start high, know what you're willing to spend, and go all in.
Diversify Creative
Remarket as boldly as you prospect. Facebook's ad set Dynamic Creative is a great tool that allows you to upload tons of images, text, and videos. Facebook automatically puts out combinations that get optimal results. 
💥  PRO TIP: Don't necessarily optimize your BF/CM ad campaigns for purchase conversion events. Instead, optimize for traffic or higher-funnel events like Add To Carts. Cast a wide net and grab a bigger audience.
Get Going Bigger! 
We wish you a successful Black Friday / Cyber Monday weekend.
Take care of your business, and take care of yourself!