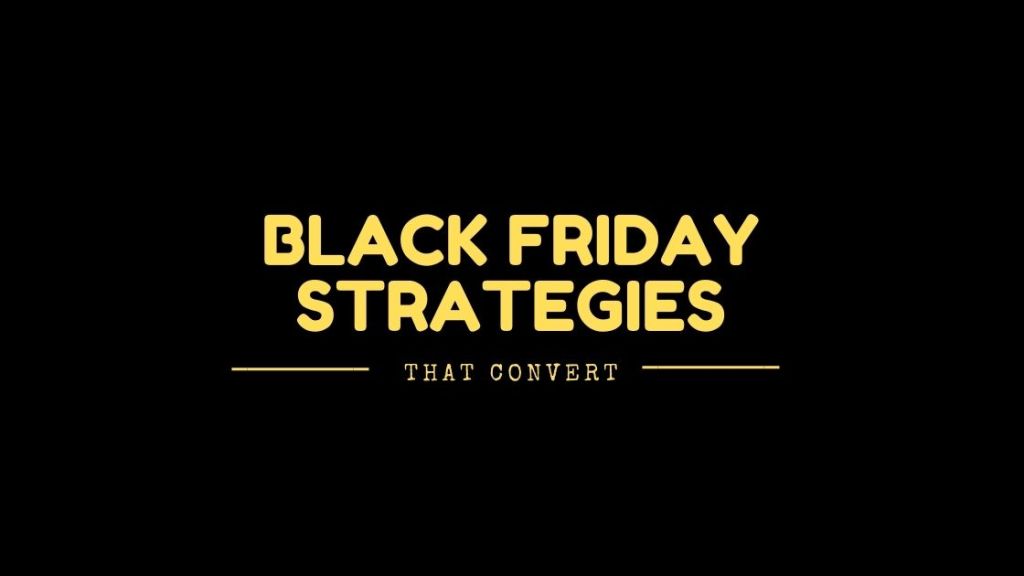 Black Friday Strategies That Convert
It's crunch time, y'all. If you haven't already, now is the time to get your Black Friday and Cyber Monday strategies in place. And we mean
now
, now. 
It's crunch time, y'all. If you haven't already, now is the time to get your Black Friday and Cyber Monday strategies in place. And we mean
now
, now. 
We're here to help you go BIG on Black Friday and Cyber Monday, with marketing strategies and creative suggestions easy enough to implement today! Let's take it step-by-step: 
STEP ONE
: Determine Your Sale 
This is the weekend to think outside the box. With so much competition fighting for consumer attention, boring strategies and standard sale tactics will go overlooked. What can you do to excite your sales message? We recommend thinking big — no 10% off codes or 'free shipping with purchase' messaging. Unless you… 

Make it a package deal. Offer combos, add-ons, and freebies to push your customers to purchase. Maybe it's 30% off PLUS free shipping, or a free product when you spend over $50. We love the tactic of offering an exclusive item, available only for the weekend, as a way to draw in repeat customers. 

And speaking of repeat customers: avoid offering deals that they've seen earlier in the year or that they know you'll offer again. Familiarity is the enemy of Black Friday and Cyber Monday. We're shooting for exclusive, one-time-only, and never-before-seen deals that will excite and entice.  
STEP TWO
: Consider Your Products 
It's natural to worry about margins with Black Friday and Cyber Monday sales. The fear of going too low and losing money (or just breaking even) is understandable but can be avoided by leveraging inventory or offers you have in excess. Is there a product in your inventory that's not selling? Or a digital offer that's easy to produce? Give it away! Or bring it down to cost. Product that doesn't move is product you are losing money on either way. When you offer a steep discount for a limited time, or with limited availability, it's a natural draw for consumers to spend more and encourages a rush of sales. 

Doorbusters. Think of them as the hook! It's more likely that you'll gather additional sales if you can lure consumers in with a deep discount on desirable products, freebies, or limited-time deals. We know it's hard to discount a bestseller, but the Doorbuster could be your best shot at attracting both new and repeat customers. 

Add-on services make great freebies for businesses that don't offer tangible goods. For example: 

Purchase our marketing consultation deal and get a complimentary ad set. 

Book an appointment to get your trees trimmed, and we'll mow your lawn too! 

Sign up for any gym membership and get a free personal training session. 
A desirable add-on, on top of an already deal, creates an offer that's hard to refuse! 
STEP THREE
: Make it a Moment  
Have certain products, deals, freebies, etc. go live on different days. This can be a great way to spread purchases out over the course of the weekend and works well for those with large consumer bases and big audiences. 

Create a dedicated landing page with all your Black Friday and Cyber Monday offerings. A comprehensive landing page is almost like a digital catalog — fun to scan through and easy to share! Plus, you'll have a specific URL that you can send all traffic to and track. 

Allow your customers to preview the content. Tease the sale! You could even include an email field to gain access to the landing page, allowing you to create a list and share an email alert once the sales go live. 
STEP FOUR
: Outreach 
Email! Y'all know we had to say it. We hope you're leveraging email marketing strategies for your business in general, but all bets are off when it comes to email marketing for Black Friday and Cyber Monday. Go bold! Set up campaigns to run every day of the sale, including a preview email that goes out the day before. Your customers are making shopping lists, and the sooner you let them know, the sooner you'll be on it. Once the sale is live, we recommend sending multiple updates throughout the day. Make each message as unique as you can, updating customers on what's selling well, daily doorbusters, etc. 

Changes from Apple in the last year have no doubt altered our holiday targeting strategies. But we remain confident that Facebook is still the king of Black Friday and Cyber Monday Ads. Here's what we recommend: Go all in. 

Prospecting: Go heavy on differentiated interest-based targeting and lookalikes. Pixel lookalikes are great if you have enough data, but if not, lean in on add-to-cart lookalikes. 

Retargeting: Go for those who have visited your website, anyone who has watched your videos or engaged with your content, and anyone who has purchased from you in the past. 

Reengagement: Target anyone from your email list or past purchase lists by using the pixel or by exporting customer lists and matching them with a Facebook audience. 

Make sure to run your ads 2-3 days before the big event. It can take a little bit of time to get for Facebook ads to get going, and in the case of any errors, delays, or ad approval issues, you won't miss out. You could even consider starting your sale a little early! Either way, have your landing page ready to go and start pushing ads at least two days before.

Get creative with Google, Youtube, and even TikTok if your audience is there! 
 TLDR; Black Friday and Cyber Monday To Do's: 
Think extravagantly about your offer. Use this opportunity to go the extra mile! 

Leverage Doorbusters as a hook and an opportunity to shed stagnant products. 

Create a dedicated space, like a landing page, to host all traffic and showcase all sale details. 

Be upfront with your existing customers. Give them the heads up and use it as an opportunity for connection! 

Don't hold back on email. 

Facebook prospecting: lookalike audiences and interest-based targeting 

Facebook retargeting: those who have visited, engaged with content, or purchased.  

*RUN ADS EARLY*. Crucial. At least 2 days prior to Black Friday, to avoid any conflicts or delays. 
Need support? 
We're here to help. Sign up now for our pro ad setup services and get full-scale support on creative, audience management, and everything in between. All you'll need to do is press play, and you'll be in business with 2021 Black Friday and Cyber Monday ads that convert. Things do get busy around the holidays, so we encourage you to sign up sooner rather than later! 
Explore the full
dropkick blog
for helpful marketing tips from SEO to social, and listen to our
Ultimate Marketer Podcast
for even more deep dives.